Entertainment
Chrissy Teigen Has a Butt Rash and She Doesn't Care Who Knows It
By
|
Chrissy Teigen does good Twitter. Whether she's roasting her husband, John Legend, skewering the man pretending to be president, or sharing tidbits of her life as mom to Luna, she keeps us laughing, 140 characters at a time. Her most recent tweet just shows again that nothing is TMI for Chrissy and 7.3 million followers. Chrissy and her family are in Europe, and she, uh, had a medical thing she needed addressed. When you're Chrissy Teigen butt rash and all, you have your doc's cell number.
And you also give no damns about sharing your embarrassing moments.
my doctor was kind enough to give me his number and I'm gonna make him regret this pic.twitter.com/tdSzkYOH1K

— christine teigen (@chrissyteigen) September 10, 2017
"My doctor was kind enough to give me his number and I'm gonna make him regret this".
I mean, he's Chrissy Teigen's doctor, so I'm guessing he probably knew what he was in for? But as a casual follower, I have questions! I wasn't the only one.
Send it to me too, I'm a doctor.

— Mary Kobayashi (@MaryKoCo) September 10, 2017
Well played, Mary. Well played.
I wonder how many responses he tried and then deleted before he said "sure"

— Female Batman (@ElleOhHell) September 11, 2017
The little dots are killing me. What did he say? How did he respond? What can you say, really? "Um, yeah. That's…fine. Are you going to put this on Twitter?"
She's Chrissy Teigen, doc. Damn right she is.
I'm imagining Chrissy waiting for his text back with her classic Chrissy "This is Awkward" face, just wondering what the hell is on her butt.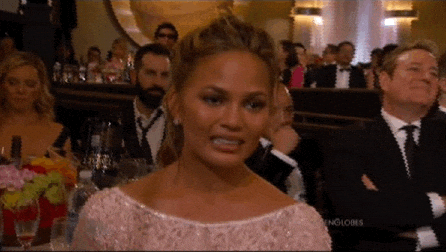 Image: Giphy
Chrissy hasn't yet updated us on the butt rash drama, but we're hoping for a follow-up. We're guessing her doctor acted in a MOST professional manner and she got a cream for it, or something. To be honest, I would love to have the kind of relationship with my doc where I could send pictures of shit that was wrong with me. Getting an appointment in a pain in the ass, and I'm not even in London. In the meantime, we'll just keep following along as she slays us on Twitter everyday.
Also read:
(Image: Instagram / chrissyteigen)