Childrearing
Charlize Theron's Son Wore a Princess Elsa Dress in Public, and the Internet Can't Get Over It
By
|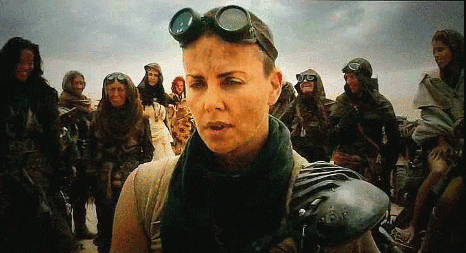 (Via Giphy)
Charlize Theron's four-year-old son Jackson wore a Princess Elsa wig this week, and some people just can't … I'm not going to do it, I'm not going to go for the "let it go" joke, even though no Frozen-related story has cried out for telling people to "let it go" as much as this one.
(Related:Â Killjoy Principal Makes Kid Change Out of His Princess Elsa Costume Just Because He's a Boy)
This week Charlize Theron and her son went out for frozen yogurt, and according to SheKnows, Jackson wore a Princess Elsa baseball cap from the Disney Store with a long blonde ponytail attached to it. He also wore a white dress with pink stripes. Now a lot of people are really upset and accusing Theron on Facebook and Twitter of being a bad mother for "degrading" and "feminizing" her son by allowing him to dress like that. But it's refreshing to see a mother let her son dress how he wants, even if it's going to get some looks on the street.
Maybe Jackson is exploring his gender identity, or maybe he just got it into his head that he wanted to wear that particular thing that day. Kids can be pretty random about what they want to wear. Either way, his mother decided to let him pick out his own clothes, and that's cool. It's important to let kids express themselves and develop their own individuality, not to force them to look and act a certain way because that's more "normal."
(Related:Â This Cool Dad Has No Problem with His Son Dressing Up as Elsa, and Everyone Else Should Let It Go)
Sometimes kids want to wear specific things. We've all seen the kid at the playground wearing Ninja Turtle underpants over her trousers, right? Or the kid who shows up dressed like a Halloween witch in July. Kids can't be trusted to dress themselves to look like little Gap ads every day, but they should be allowed to express themselves and wear the tutus and the proton packs and underwear on the outside if they want to, and that includes the occasional princess dress.
Luckily some voices have been raised in support of Theron and her decision not to forbid her son from wearing an Elsa costume in public.
Charlize Theron's son wanted to dress up as Elsa. Great parenting. Your kid can do what they like, its not gonna "make them gay"

— Greeney (@JamesGreeney) August 25, 2016
Here's a thought: maybe Charlize Theron's son WANTED to wear the dress? Crazy, I know. Letting him have his own identity and all.

— ロレン The Tactician (@sixmyths) August 25, 2016
It's sad that people think Theron is degrading her son by letting him wear dresses, because it's sad that dresses are seen as degrading. But letting her son dress in a princess dress isn't going to make him gay or make him a woman, because you can't make a person be either of those things. It's good for kids to be allowed to express themselves and be creative and to have the good example of a parent who doesn't freak the hell out at the idea of a boy in an Elsa costume.