Childrearing
'Cash Me Oustide' Girl Danielle Bregoli Pays Off Her Mom's Mortgage
Well I am certainly in the wrong goddamn business. Everyone remember Cash Me Outside girl Danielle Bregoli? The out-of-control teen whose mom took her on Dr. Phil to "save" her? The teen was stealing, drinking, doing drugs, and tried to frame her mom for a crime. Their appearance on Dr. Phil birthed one of the most memorable (not in a good way) memes and gifs in the history of the internet. Now Danielle is a rapper, I guess. And she's doing well enough that she was able to pay off her mom's mortgage for Christmas. So, just let that sink in.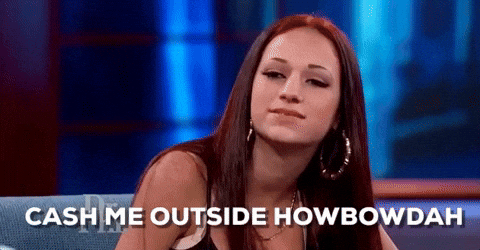 Image: Giphy
Cash Me Outside girl Danielle Bregoli posted a video on Instagram on Christmas. In it, she can be seen handing her long-suffering mom a check. I guess crime and being an outstanding asshole really DOES pay off.
With the camera focused almost entirely on herself, Danielle hands her mom an envelope and says, "Merry Christmas, bitch!" Then she preens for the camera some more, swings her ponytail around, and eventually mom opens the envelope and sees what's inside.
It's heartwarming, in a weird "Holy crap why does this person have so much money?" kind of way.
Danielle has come a long(ish) way from her days as a delinquent talk show guest. Which is crazy to think about because it feels like we've had to hear about her for years and she's still JUST 14 YEARS OLD. These days, Danielle (presumably) spends less time stealing cars and threatening people with knives. She's a rapper who goes by Bhad Bhabie, and she signed a deal with Atlantic Records a few months ago. Her first single, "These Heaux", was a moderate hit on YouTube.
It's … uh … well, you can watch it yourself if you'd like.
However she got where she is today, at least Danielle is paying it forward for her poor mother. Happy holidays, heaux!
(Image: Facebook/Danielle Bregoli)