Entertainment
Canada and Australia Get Cadbury Creme Egg McFlurries Because They're Lucky and I'm Jealous
By
|
I mean, living in America, we're pretty used to not having nice things. But this one stings a bit. McDonald's is selling Cadbury Creme Egg McFlurries just in time for Easter, but there's a catch. You can only enjoy one of the delicious ice cream concoctions if you live in Canada or Australia. Why not here, McD's?? This country loves you (a little too much, maybe?)! I've been stockpiling Cadbury Creme Eggs for weeks so I don't run out after Easter! And now you're telling me that I can't have this McFlurry because I don't live in Snow Country or Spider Town? Rude.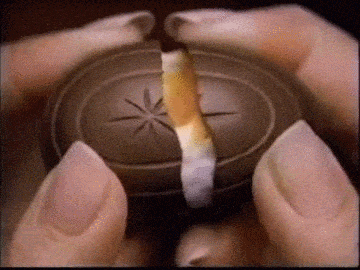 Image: Giphy
The Cadbury Creme Egg McFlurries sound like heaven, to be honest. And I'm not even a big ice cream fan! But I will destroy a creme egg.
The limited-edition Easter treat is vanilla soft-serve ice cream blended with actual Cadbury Creme Eggs. Just imagine that delicious egg filling swirled throughout yummy soft-serve. With little chunks of Cadbury chocolate hidden in there. Oh my god. I'm having a moment.
This isn't the first time McDonald's has done us dirty and left us out of the Cadbury craze.
They sold the same McFlurry in Canada and Australia back in 2016. They know we have Cadbury eggs here, right? I mean, if I buy a few at Target and take them to McD's, you think they'll mix them in for me?
https://www.instagram.com/p/Bg1aQtmAz-i/?tagged=cadbury
And what the hell is this?! Apparently there is actual Cadbury Creme Egg ice cream. Ready-made ice cream! But can we get it here? NO, NO WE CANNOT. What the hell kind of nonsense is this? We can get guns here, and really crappy healthcare, but god forbid we want to indulge in a little creme egg goodness. I'm so mad.
So, if you're craving a Cadbury Creme Egg McFlurry and you live in the U.S., you're going to have to make one yourself, I guess. I don't like snow or spiders, but I'd be willing to deal with it for a taste of one of these delightful creations, not going to lie.
(Image: McDonald's)