Entertainment
There's a Boss Baby Series Coming to Netflix Because Kids Get All the Good Stuff
By
|
I'm a little concerned about how much this news excites me. I seriously LOVED The Boss Baby. I thought it was sweet and funny and incredibly entertaining. My girls watch it all the time at home, and it's one of those that doesn't annoy me after repeated viewings. So when I heard Netflix was queuing up a Boss Baby series? I might have squealed a bit. My kids are going to be STOKED.
Netflix already hit it out of the park with the Trolls series. And now they're bringing the goods with the Boss Baby series. Regular TV just can't compete.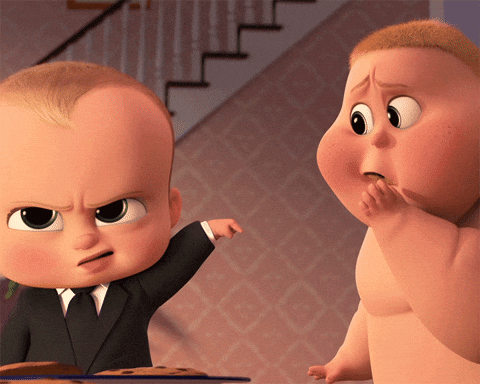 Image: Giphy
It looks like the new series will pick up where the movie left off. Netflix says, "With a little help from his brother and accomplice, Tim, Boss Baby tries to balance family life with his job at Baby Corp headquarters." So Boss Baby (I just realized he doesn't even have a goddamn name) and Tim will get into all sorts of shenanigans, I'm sure. Although it'll be hard to top a young and a baby somehow boarding a plane and flying to Vegas alone.
Miles Bakshi is back as big brother Tim, but doing the voice for Boss Baby in the series is JP Karliak. You may remember Alec Baldwin voicing the diapered little dude in the movie, and he'll be returning for the big screen sequel. But from the trailer, it sounds like JP does a wonderful job filling in on the small screen. The trailer is absolutely perfect, and it really does look really funny.
The Boss Baby series, The Boss Baby: Back in Business starts streaming on Netflix on April 6. So you have about a month to teach your kid to file their own taxes in preparation. And remember: cookies are for closers. And moms.
(Image: Facebook / The Boss Baby)