Entertainment
Blue Ivy Carter Stole the Show at the Grammys, Per the Usual
By
|
The 60th Annual Grammy Awards were held on Sunday night, and as expected, there were tons of big stars in attendance. Music industry giants, singers, songwriters, all came together to honor stand-outs in the industry. The Grammys are usually my favorite awards show, just because there are so many amazing performances. But this year, while I did enjoy the musical numbers, the performance that stole the show for me and many, many others was the one put on by one Miss Blue Ivy Carter.
I suppose when your mom is Beyonce and your dad is Jay-Z, life looks a different for you. And Blue Ivy Carter wears it well.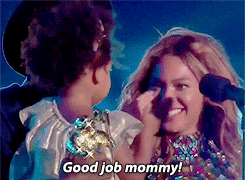 Image: Giphy
Blue Ivy joined her mom and dad at the awards show, sitting front and center. Honestly, this kid had the best seat in the house! Jay-Z was nominated for 8 awards, and while he didn't walk away with any golden gramophones at the end of the night, at least he got to hang with the coolest kid in the auditorium
At one point, Blue Ivy Carter appears to shush her mom and dad. Camila Cabello has just introduced US, and apparently, Blue wanted to catch every second of the performance.
Blue Ivy is everything! #GRAMMYs pic.twitter.com/JSxtyGORhU

— billboard (@billboard) January 29, 2018
I've been shushed by a kid before. Believe me, it does nothing for your self-confidence. But her little hand and head nod? I can't. Kids do not give a single shit, they will put you in your place in front of millions of people. Just try them.
Beyonce and Jay-Z looked amazing, obviously. I love how they coordinated their outfits so that Blue stood out. They know who the boss is in that family.
Also, let us all remember that Bey gave birth to twins less than a year ago. If I didn't love her so much, I would absolutely hate her. And that dress and hat? I will live the rest of my life wishing I could pull off that look. I cannot, I will never be able to, but a girl needs aspirations, right?
Thanks for the entertainment last night, Blue! We'll try to keep the applause to an acceptable level.
(Image: Video / PEOPLE)