Food
Bailey's Gives Us What We Really Want With Strawberries & Cream Liqueur
By
|
Baileys, purveyors of boozy coffee creamer (let's be honest, that's really all it is) has a new beverage on the market. Strawberries & Cream is pink concoction that blends the taste of fresh strawberries with creamy Baileys, and yes please, I'll take two.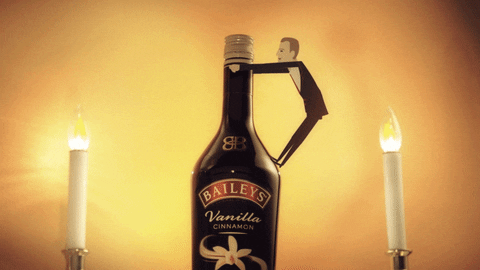 Image: Giphy
Baileys has added several new flavors over the years, from vanilla to espresso. But the Strawberries & Cream sounds absolutely delightful.
Think of the possibilities! Milkshakes, sundaes, by the glass. I'm definitely feeling the variety here. A Pink Russian! Which is a thing I just made it but am sure exists. Baileys has a ton of recipes on their website, and all of them look delicious. There are even several ways to incorporate the drink into food, which is always a plus.
See, that's perfect for a wedding shower or even a baby shower! A baby shower where the mom-to-be doesn't mind if her guests booze it up, of course. There's nothing worse than watching your friends and loved ones drink delicious cocktails while you sip your virgin mimosa. So definitely run it by mama before baking these cute little cakes. Anything to help you get through the stupid baby shower games is A-OK in my book.
The new Strawberries & Cream is available through April. A 750ml will set you back $24.99, and it's sold at most retailers nationwide.
If you've been searching for the perfect treat for your partner (or yourself!), head out and grab a bottle of this stuff. Step one, pour some in a glass and sip on it. Step two, scoop vanilla ice cream into a bowl and top with fresh strawberries. Finally, drizzle Strawberries & Cream over the whole thing, then top with whipped cream. And eat the entire bowl, because you deserve it.
(Image: Facebook/Baileys)