being a mom
Cheatsgiving: 10 Things I Need So I'm Not A Raging Monster Mom On Thanksgiving
By
|
I'm basically writing this in hopes that you lovely readers will also share your Thanksgiving 'Must-Haves' so I can steal all of your ideas and make my holiday that much more joyous. At least I'm honest. Some of these things I grew up with, so they are just part of my holiday tradition, and some of these things I just need because if Mama is going to slave over a hot stove for two days, Mama better have some things she needs to get through this culinary nightmare.
1: I Need Christmas Music
When I'm de-veining my damn celery and chopping onions, I want some Johnny Mathis and some Elvis to keep me company. I have decided that I can officially start listening to Christmas music while preparing my Thanksgiving food, and it just makes me happier to listen to it when I'm doing all of my prep work for the big meal.
2: At Some Point, I Need To Watch A Charlie Brown Thanksgiving 
3: I Need A Cocktail That I Don't Prepare Myself 
I want someone to prepare a lovely cocktail for me and bring it to me, because I am BUSY. Â I would like this cocktail to have junk floating in it, like mayhaps slices of fruit.
4: I Need A Turkey Sculpted Out Of Butter 
And I will go to every damn grocery in town until I find one. I know it's dumb, but I love the butter sculptures grocery stores sell around the holidays and seeing a turkey created out of butter makes me happy.
5: I Need To Wear Something Cute That is Also Comfy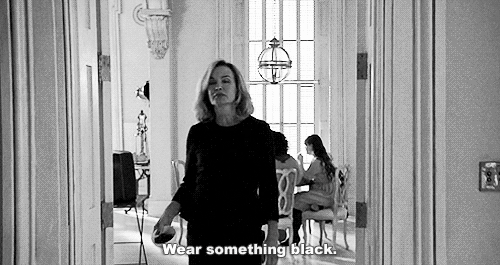 In my house, we don't "dress" for Thanksgiving, but I want to wear something that looks cute and presentable that I can also nap in, preferably with an elastic waist.
6: I Need This 11 Dollar Williams Sonoma Turkey Gravy Base 
UGH, please do NOT gravy lecture me. Nothing stresses me out more than gravy. I know all about that Wondra stuff, I know all about dissolving cornstarch in cold water, but I refuse to make gravy without my overpriced WS gravy starter. I would rather just add my turkey drippings to this stuff and be a gazillion percent positive it will come out perfect than stress over making gravy from scratch. Do not gravy shame me!
 7: I Need To Have The Macy's Day Parade Playing In The Background 
As hokey as it is, I love the parade and I love forcing my kids to watch it.
8: I Need A New Board Game 
I LOVE playing board games with my family, and I always insist on a new one to try. I NEED your suggestions!
 9:  I Need These Stupid Holiday Ice Cream Trees 
This is dumb and not Thanksgiving themed but growing up we always had these and the snowman ones for the kids for after the big meal in case they didn't want pie, so it's more of a nostalgia thing for me than anything else. I don't eat them, I prefer chess pie or something, but the kids are always gaga for them.
1: New Food Storage Thingies And A Spotless Refrigerator 
I want my refrigerator cleaned out before the big day, and I also want a plethora of new food storage containers, Ziplocs and foil. And to not have to package any leftovers or do any dishes when it's over with. That's what kids and spouses are for.
Enter your own story here to win amazing prizes from Spafinder Wellness 365.Spafinder Wellness 365 Gift Cards are accepted at over 20,000 locations for massage, facials, yoga, fitness and more. Find over 72,000 retail locations on their site.
(Images: Getty)